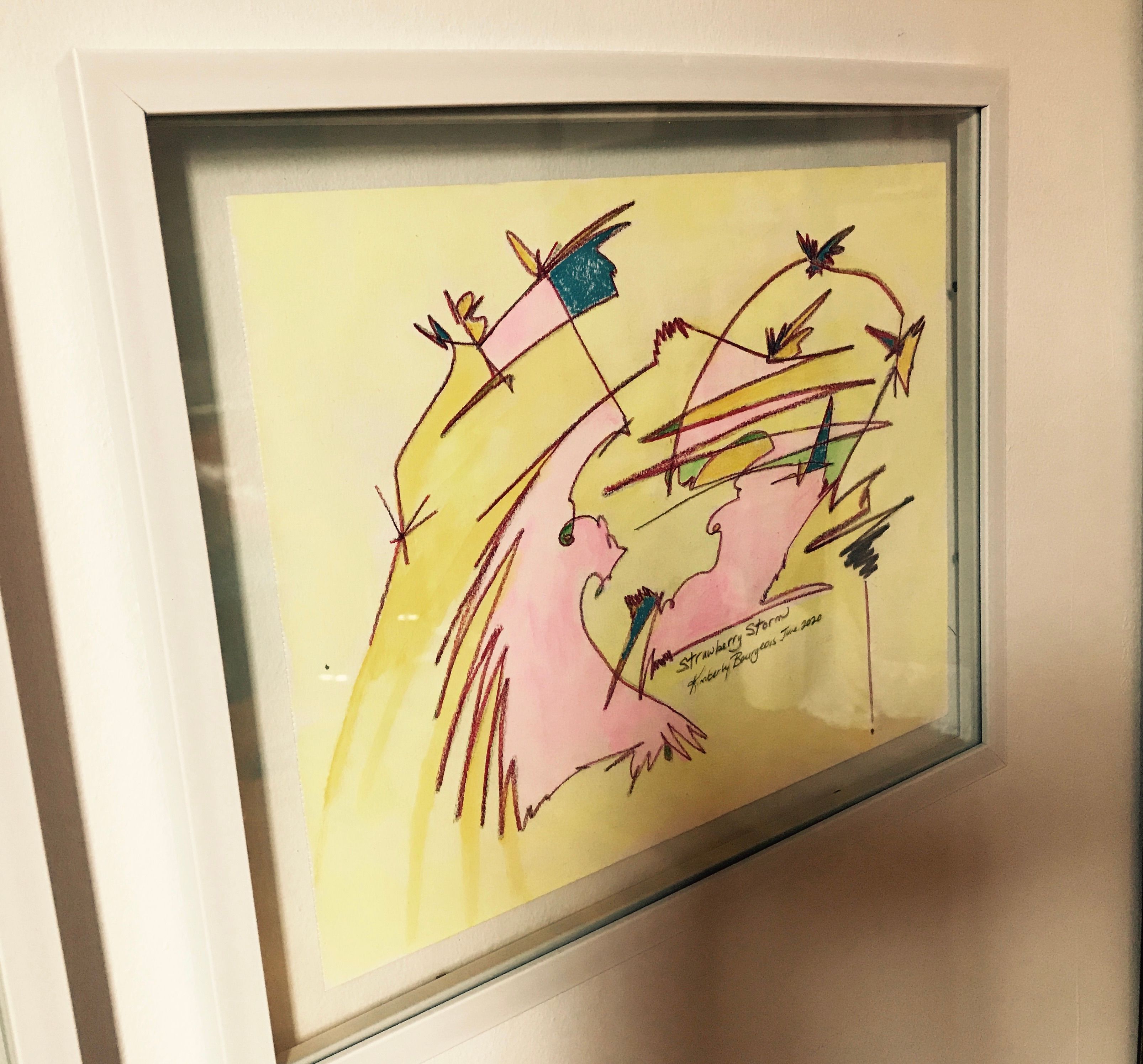 9 x 12 on watercolour paper: watercolour paint, coloured pencils, oil pastels, pencil.
©2020 Kimberly Bourgeois; all rights reserved.
My impulse, as an artist, when faced with fear, grief, or any of life's "uglies," is to dive into the discomfort headfirst. Only after I've spent some time digging in the dirt am I ready to start alchemizing garbage into gold. Whenever I'm tempted to skip the first part, petitioning beauty before bopping with the beast, something about the work rings false.  
I made this painting on the eve of the Strawberry Moon, back in early June, when Montreal was cracking out of lockdown, streaked with uncertainty. My mood that day was as erratic and cutting as the zigzags that fired onto the page. Closing my eyes, I let inner vision take my hand and lead me in a stormy jig. (This eyes-closed technique is one I enjoyed exploring years ago while taking expressive art classes at the Saidye Bronfman Centre in Montreal.) Having been given permission to dance, my frustration surprised me with a curtsy and then swung around to open a window—and my eyes.  That's when buttery yellows, hints of mint, and cotton-candy pink crept in like playful pals, calling me home.  
While the end product is quite concise (I wasn't tempted to crowd it with details), something about this piece feels honest to me. I've framed it and hung it on my wall as a reminder. Whether I'm splashing around with colour, or writing a song, poem, or article, this painting prompts: "Don't skip the first part. Work from the inside out. Those first lines, even when fitful, are the lightning in your bones. Let your skeleton sing!"